Posted 7 months and 11 hours ago :: Last edited 7 months and 11 hours ago by
lunaire
Happy May, Plushies! Thank you for coming to read our Monthly Newsletter! Let's get into it!
This month, as always, we have some fun new prompts crafted together by our lovely staff! Word searches and crosswords and worksheets galore! We even have the return of last years worksheets, in case your Plush Dragons pockets are running a little dry! ;) Last May's prompts are back as well, we're eager for you to go and have some fun!
There's some fun new ways for you Plush Dragon to explore, too! And a couple of new badges with our new May prompts! How exciting! 
But our biggest update this May? Why, the Knits of course!
Lovingly crafted by our very wonderful lunaire  and our staff, these tiny baby Plush Dragons are so eager to meet you!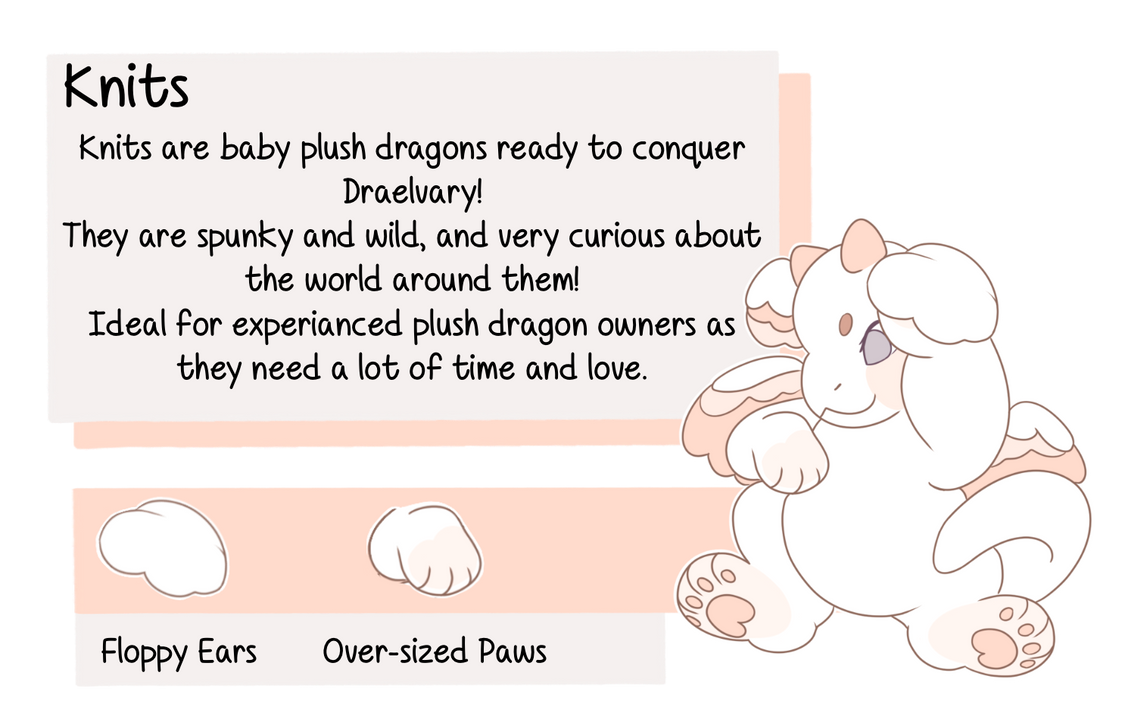 The most exciting part about knits? I'm so glad you asked!
Every person who has never owned a Plush Dragon (further referred to as a First Time Owner or FTO) can claim a Knit MYO Slot absolutely free! Knit's are made to grow up beside their FTO and help them to get out and explore Draelvary to its fullest!
Please note! Knit MYO Eggs default as a Common MYO Egg, and any traits above common do have to be applied with trait items! Your knit also has the option to stay a baby or to grow up, the Making Memories prompts were created just for this!
There's some more information on knits here:https://plushscouts.com/info/knits
And if you don't have time to do the Making Memories prompts, you could always purchase a Growth Chart from Sybil, to speed things along!
Knits can do *any* prompt, but there are some limitations! If it's anything other than a Making Memories prompt, your Knit *must* be accompanied by an adult Plush Dragon! This could be another Plush Dragon you own, an NPC, or a Plush Dragon that belongs to a friend! After all, we can't have little baby Knits running around alone!
If you do include your Knit and another Plush Dragon in a prompt, the button rewards are increased! You'll get the buttons for the adult Plush Dragon, and half of the standard amount for including a Knit! On top of this, you;ll get double the item rewards, aside from badges! If there's a companion rewarded, you'll get two! That way both Plush Dragons can get something new! Be sure to calculate and add on your extra Buttons and Prizes when you submit your prompts and include them in your score breakdown! 
---
There are no comments yet.
Comments
Authentication required
You must log in to post a comment.
Log in